With the optional Item Submission Cutoff Dates feature, Agenda Managers and Admins can prevent the addition of new or copied items to meetings past a specified time. If a meeting's date and time fall within the cutoff window for its meeting type, users will not be able to select that meeting within Add Item or Copy Item screens. The meeting will appear greyed out and cannot be clicked.

This article will show you how to create or edit an Item Submission Cutoff Date, and it will also explain how Agenda Managers and Admin users can add items after the cutoff date.
Important Note
Item Submission Cutoff Dates only affect the ability to assign items to a meeting. If an item is already assigned to a meeting with a cutoff date, the item can be edited unless it has been locked.
Create or Edit Item Submission Cutoff Dates
Navigate to Application Properties

Select the Meeting Settings Tab

Select the desired meeting template from the Meeting Template drop-down list

Scroll down to the Item Submission Cutoff Date section

Enter the desired number of hours in the Enforce Item Submission Cutoff box


Notes:

"0" Hours Before Meetings of This Type is the default setting; a 0 in this box indicates that the Item Submission Cutoff feature is not enabled
If a number greater than 0 is entered in this box, a cutoff date/time will be enforced at the specified number of hours prior to meetings of this meeting type
There is no limit to the number of hours that can be entered, and you can enter decimal numbers (for example, 0.5 or 168.5)

Scroll down to the bottom of the Meeting Settings page
Click Update

Repeat steps 3 through 7 as many times as desired to create or edit Item Submission Cutoff Dates for other meeting types
The Item Submission Cutoff Dates are updated
Add an Item to a Meeting after an Item Submission Cutoff Date
Agenda Managers and Admins that need to submit items to meetings after an Item Submission Cutoff Date has passed can do so from the Meeting Detail screen. Items added to the meeting via the Build tab's Add New Item buttons bypass the cutoff date. See the Add an Agenda Item from the Build Tab section of the Add and Manage Agenda Items article for instructions.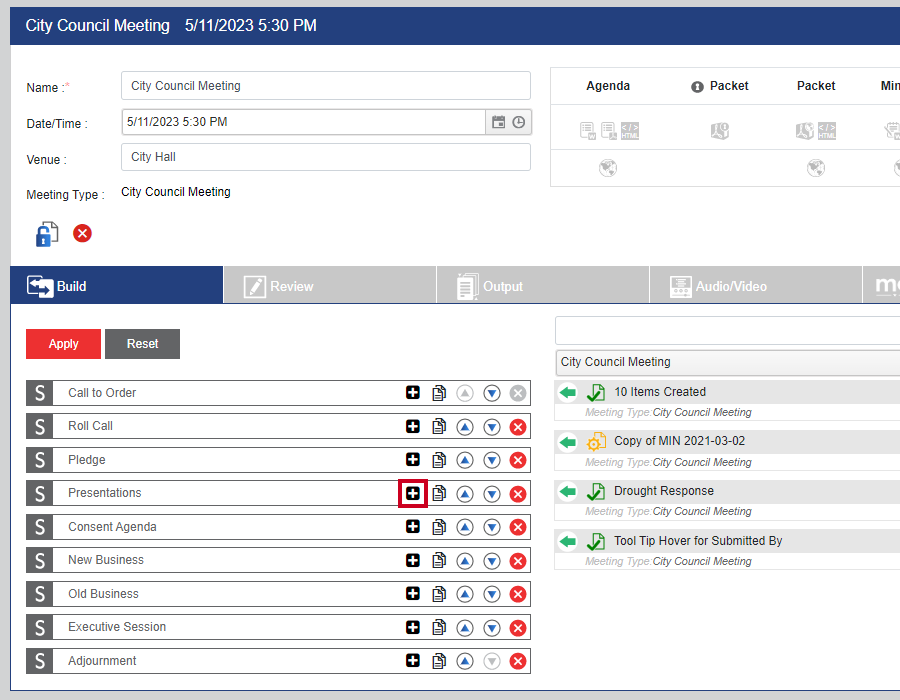 Resources