This article will identify many of the screen navigation options available to users of Municode Meetings, now Essential Agenda and Meeting Management.
Top Bar
The Top Bar provides quick access to important information and settings for your Meetings Essential system.


Municode Logo: The Municipal Code Corporation (Municode) Logo
Screen Name: The name of the screen you are currently working on (for example, Inbox, Item List, or Security); this changes as you navigate through the site
Meetings Site Name: The name of your municipality (for example, Hometown, FL; SANDBOX4 CLIENT)
Notifications (bell icon): View system notifications (for example, "item created" or "meeting created")
Agenda Item Templates (stack of paper icon): View or download the Agenda Item/Staff Report templates that are available to your user account


Note: The use of this feature varies by organization preference.

Local Settings (gear icon): Click to view or update your local browser settings
Help (question mark icon): Click to access the Help Center where you can view tutorials and contact the Support team
Logout (power icon): Click to log out of the Meetings Essential system
Left Menu
You can use the left menu to access key features of the Meetings Essential system. Left Menu options will vary depending on your organization's preferences and the roles and permissions assigned to your user account. The screenshot and list below cover options that are typically available to agenda managers.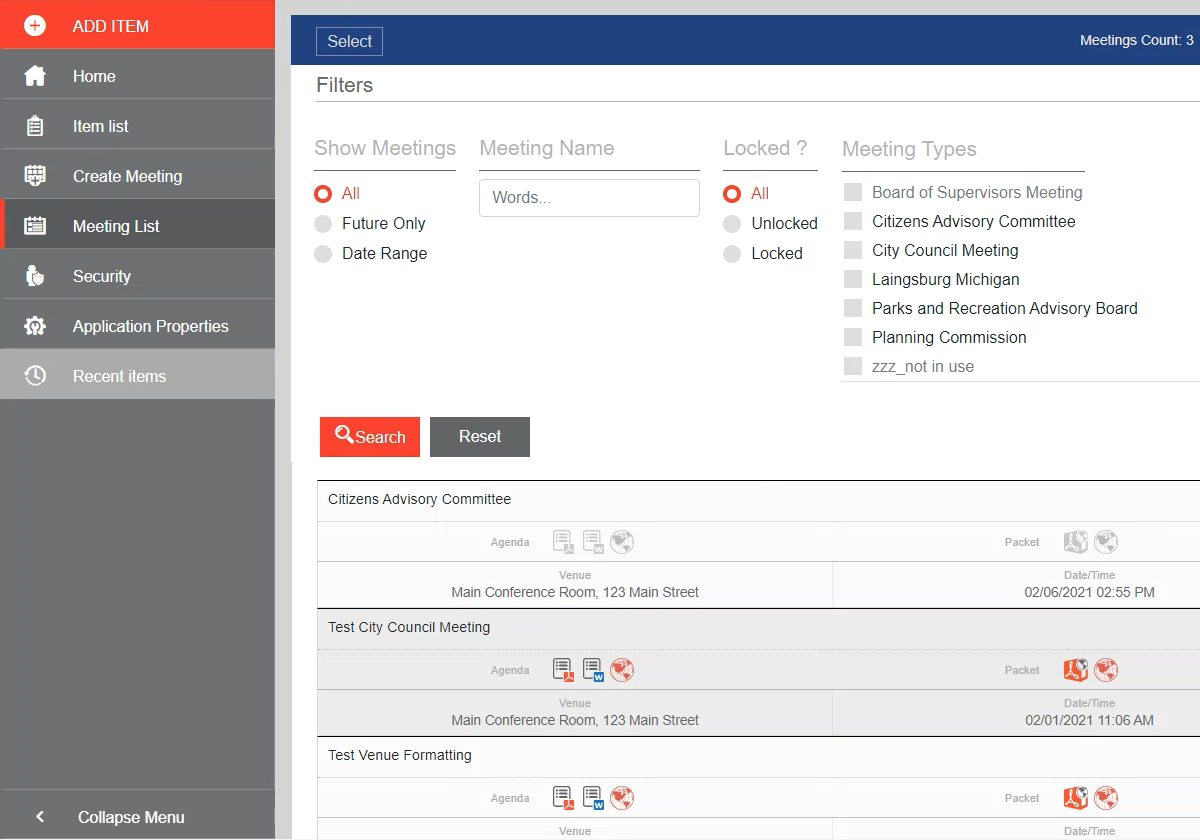 Add Item (circle and plus sign icon): Create a new agenda item
Home (house icon): Access your inbox task list
Item List (clipboard icon): Search for and view all items in the Meetings Essential system
Create Meeting (calendar and plus sign icon): Create a new meeting
Meeting List (calendar icon): Search for and view all meetings in the Meetings Essential system
Security (person and shield icon): Create and manage roles, users, and departments
Application Properties (wrench and gear icon): View and update system settings
Recent items (clock icon): See a list of the last ten (10) items or meetings that you worked on
Collapse Menu/Expand Menu (left/right arrow icon): Collapse or expand the left menu